About us
Our vision: Working as one
LDB Group is one of Melbourne's most highly regarded accounting and advisory practices, with expertise in accounting and tax complemented by expertise in audit, wealth management, superannuation, financing and property.
LDB is underpinned by a truly united team that partners with our clients at every stage of their financial journey, providing peace of mind that we are working as one to achieve their goals.
Our team is committed to providing high quality and holistic financial services to clients, including regular communication, being accountable for actions, trusting our colleagues implicitly while keeping them accountable, and acting with absolute integrity.
Our values: leading with honesty and integrity
At the heart of LDB Group are our core values – the deeply ingrained principles that guide all of our company's actions that serve as our cultural cornerstones.
Our values include:
Honesty – we're committed to keeping our word, while being fair and straightforward.
Integrity – we're respectful, ready to work, and adhere to professional ethical guidelines.
Respect – we treat people with courtesy and kindness, and encourage our colleagues to share opinions and ideas.
Teamwork – we collaborate to achieve outcomes through shared knowledge, and demonstrate empathy for our colleagues and clients.
Communication – we communicate in a frank and open manner, while seeking facts and clarity in place of assumptions.
A message from our founding partner, Tim Dickson
Bruce Lundstrom and I formed Lundstrom Dickson & Associates in 1986, with a focus on providing tax and management accounting services to small and medium-sized businesses.
Right from the start we sought to create a culture of caring for our clients, caring for the outcomes we delivered, and caring for our staff.
In 1996 the firm grew again, when it merged with Barbanti and Co.
As we grew we evolved into LDB, but that philosophy has always remained crucial to our success.
Clients recognised us as trusted advisers and began to ask for more: for our opinions on shares, assistance with home or business finance, or for broader business advice.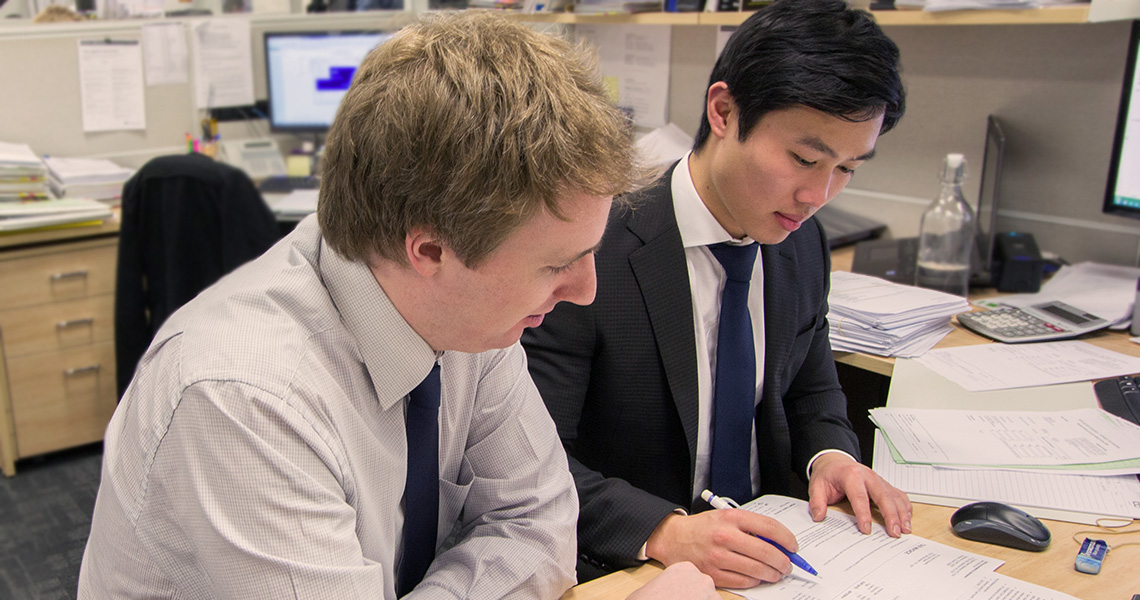 Rather than referring clients to other practitioners we decided to build skills in these other areas within the firm. We sought out experts in their fields, ones that shared our philosophy of caring, and established viable, properly resourced business units.
We also made sure that all the disciplines within LDB operate as a seamless team, 'working as one' to provide everything from tax and auditing through financial planning and self-managed superannuation to lending and property services.
Back in 1986 Bruce and I had another goal: to build a business that would endure beyond our working lives. From just three people at the start, we now number over 70+.
"We provide the peace of mind that comes from knowing your financial affairs are being well looked after."
We actively recruit graduates and invest in their further training to give them the best start in their careers, and some have gone on to become partners.
In return, our younger team members are quick to embrace new technologies that allow us to be even more effective in delivering positive outcomes for our clients.
While we are always looking for ways to improve, we are proud of our people, their dedication to their work and to the results that they deliver for our clients.
As our services have expanded so has the range of clients we work with.
Small and medium-sized businesses are still important to us, but we also assist new businesses, individuals and families, public companies, not-for-profits and incorporated bodies.
Perhaps the best way to sum us up is that we provide the peace of mind that comes from knowing your financial affairs are being well looked after.
The best way to judge if we are the right firm for you is to meet with us.
Why not give us a call to arrange a time to chat about your financial future?
Tim Dickson
Founding Partner